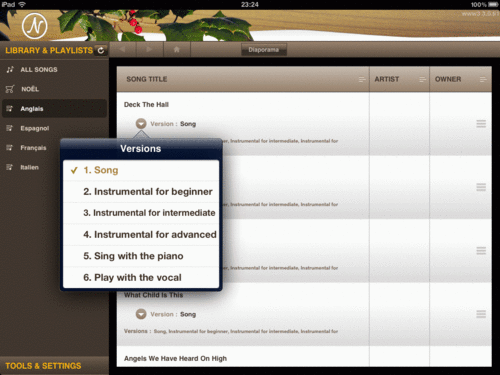 Christmas by Newzik is an iPad application especially designed to liven up your Christmas party.

Listen to 40 of the most enchanting Christmas songs with an iPad HD quality available with a songbook in English, French, Spanish and Italian. You can also sing and accompany yourself on the piano or the guitar and follow the lyrics with the melody thanks to the music scores appearing on the screen.

Together with the vocal versions, and with each song, you can also choose between 3 instrumental versions for solo piano ranked by technical levels from beginner to advanced level.

Each user can easily swap at will - from French to Spanish and from Italian to English - all the while comparing the different versions and even transposing the piano part if the song is not in the right key, or simply while accompanying the wonderful voices on the guitar or the piano.

...
Read full release