Gardening World Cup Event - Japan: Saturday 9 October to Sunday 31 October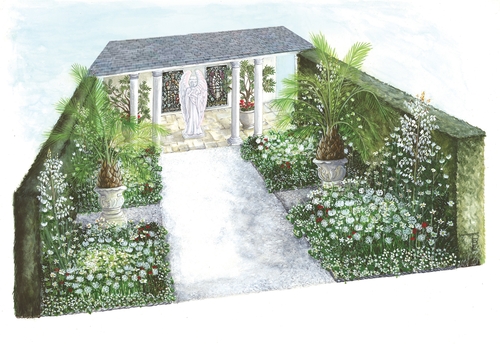 Gardening World Cup 2010 Nagasaki, Japan: Gardening For Peace
Saturday 9 October to Sunday 31 October
Judging Friday 8 October

Stained Glass Windows in a Potting Shed Inspire Design for World Peace Garden

Debut Chelsea Flower Show 2010 show garden designer Jonathan Denby, Andy Sturgeon and James Towillis, join nine other top landscape artists from across the globe at a first ever Gardening World Cup being held in Nagasaki, Japan next month (October).

Set in the palace grounds of Huis Ten Bosch, an astonishing replica of a Dutch town the size of Monaco, the organisers are expecting the event to rival the prestigious Chelsea Flower Show. It is being heavily promoted in Japan through a massive TV advertising campaign and budget of $5m. The location is near to the home of Kazuyuki Ishihara, Japan's leading garden designer and Chelsea show garden gold medalist, who conceived the idea of the competition and its theme of gardening for world peace.

The judging panel includes two Royal Horticultural Show judges, Bob Sweet and Kate Hillier, and other international judges Sam Lemheney (Philadelphia Flower Show) and Wei Har Wong (Singapore Flower Festival).

Details of the gardens can be seen via this link to the organisers website: www.gardeningworldcup.jp/news/004.html and a video promoting the event can be see at: www.huistenbosch.co.jp/publicity/movie/GWC2010/index.html

The garden Jonathan is building in Japan is inspired by two Pre-Raphaelite stained glass windows in his Yewbarrow House potting shed at Grange-over-Sands in Cumbria. The windows were rescued from a church in Heywood, Lancashire and commemorate 14 men who died in the First World War. One of the 14 men is Frank Taylor and this garden is a memorial to him.

Seventeen year old Frank joined the Lancashire Fusiliers in 1915. Under-aged and unwell he was sent to France to fight. He died within eleven days of facing the enemy for the first time in the Battle of the Somme in an attack on the fortress village of Guillemont. This attack was described by soldier, military historian and leading inter-war theorist B. H. Liddell Hart as a 'shambles of horror'. In the five month battle the two armies fired 30 million shells at each other leaving a million casualties in the seven square miles that lay between them. 88,000 British soldiers were killed for every mile gained in the advance.

"My link to Frank's story is through the beautiful stained glass memorial in my potting shed", says Jonathan Denby. "His is a poignant story about a pointless battle in which a million lives were lost and for no decisive outcome. My design for a garden of quiet contemplation inspired by Frank fits very well with the theme of world peace."

A key feature of the garden is a two-metre high statue of an angel found in one of the stained glass windows. On either side of the angel is an olive tree in an urn. The branches of the olive trees represent peace and at their base are red flowers symbolising the poetic line, "even the olives are bleeding".
The garden is a place of contemplation and peace where the only colours are white and green, representing peace, with splashes of red, signifying spilled blood. The garden is divided by a wide path, at the end of which is a loggia providing shelter for the statue and a viewing point for the garden. Enclosed on three sides, the flower garden is a place of restful, cloistered tranquility.

This competition event will see 12 gardeners compete to build a garden on the subject of world peace. In addition to the UK and Japanese entrants, designers from the USA, Canada, Holland, France, Singapore, Australia and New Zealand will also compete.

An orientation visit took place in mid June with the designers spending time exploring the site and local plant nurseries as well as making a visit to the Atomic Memorial Park in Nagasaki.
Ends

Please contact Jonathan Denby for interview requests on 07733 322394
For images please contact Emma Dewhurst on 015395 64193


Background information:

Designer Details – key/current awards only mentioned:
Kazuyuki Ishihara – Japan. RHS Chelsea Flower Show 2006~2008 gold medal, Best of Show.
Andy Sturgeon - UK. RHS Chelsea Flower Show 2010 gold medal, Best of Show.
James Towillis UK. RHS Chelsea Flower Show 2010 silver gilt medal.
Jonathan Denby - UK. RHS Chelsea Flower Show 2010 debut silver medal. Victorian gardening specialist, slow life fan and hotelier who owns South Lakes Hotels. His own garden at Yewbarrow House in Grange over Sands, Cumbria is open for the National Garden Scheme and is one of the few 'starred' private gardens in the 'Good Gardens Guide'. www.yewbarrowhouse.co.uk www.bestlakesbreaks.co.uk www.slow-life.co.uk
John Cullen - USA. Singapore Garden Festival 2008 gold medal.
Jim Fogarty – Australia. Singapore Garden Festival 2008 gold medal.
Ben Hoyle New Zealand. Ellerslie International Flower Show 1999 gold medal.
Nico Wissing - The Netherlands. RHS Chelsea Flower Show 1994 sold medal.
Dimitri Xenakis & Maro Avrabou – France. Singapore Garden Festival 2008 silver medal.
Alex Bartlett & Robert Boltman – Canada. Interior Design Show 2009 silver Medal.


Event details:
Dates – it is open to the public from Oct 9, 2010 (Sat) to Oct 31, 2010 (Sun) 9:00-18:00 (Gates close at 17:30). * On Oct 8, 2010 (Fri), judging takes place.