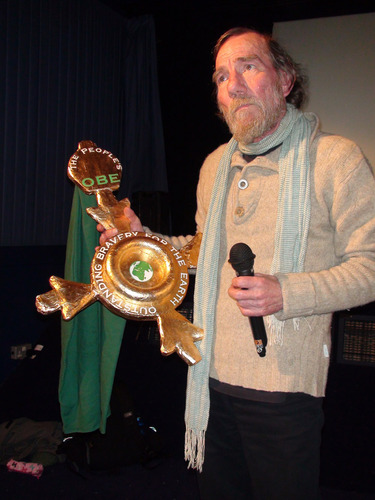 Pete Postlethwaite, star of Age of Stupid gets given a green 'OBE' by 'the Carbon Coach' Dave Hampton, and Katie Keegan of One Green Earth.

On 25th March, at the Odeon, Panton Street, off Haymarket, London, Pete Postlethwaite, star of new climate movie The Age of Stupid, was taken by surprise during a 'question time' session by something green, but it wasn't green custard.

After the special screening that he attended, he was awarded a new 'Peoples OBE' by fans Katie Keegan and Dave Hampton on behalf of all those calling for more urgent action to reduce greenhouse emissions, and as part of the NOT STUPID campaign www.notstupid.org

The Award (hand crafted with 98% recycled materials) - dubbed The People's OBE – for 'Outstanding Bravery for the Earth' – was in recognition of Pete's pledge (made at the...
Read full release