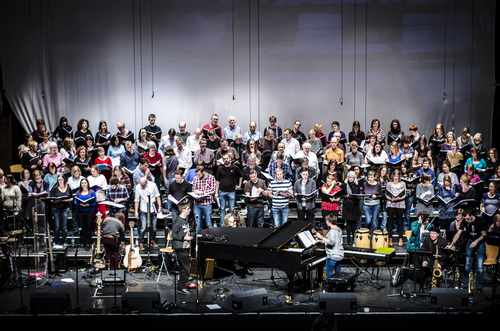 Following hot on the heels of like-minded creative concepts Punchdrunk and Secret Cinema, The Dowsing Sound Collective - the immersive sound collective that takes both first time and experienced singers, mixes them with pro & semi pro musicians, and gigs them all in serious music venues with full sound, light & staging production - launches in London in November.

Described by the press as a "harmonic phenomenon bursting onto the scenes like a firecracker", The DSC is purposefully eclectic. Their aim is to find brilliant tracks, by brilliant bands (both established and new talent) and then to get under the skin of the tracks using up to sixty singers and a band of up to ten instrumentalists. They've attracted some heavy weight support in the music industry in the form of Bobby Aitken, legendary sound designer - as well as collaborated with bands and artists including Basement Jaxx, Boo Hewerdine and Megson.

According to founder Andrea Cockerton...
Read full release