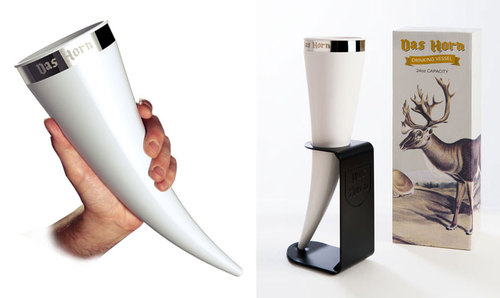 There's nothing better after a hard day's pilfering, plundering, and pillaging than an ice cold brewski. But not just any old tankard, chalice or pint glass will suffice. Great Odin's Raven, NO! So raise a toast to the 'Allfather' and hail your 1000th Twitter follower with Das Horn – the beautifully designed drinking horn for the iPod generation.
Following a victorious Kickstarter campaign, New York designers David Segall and Alex Chatham opted to craft their Viking-style drinking vessel from sleek white BPA free ABS plastic, with a laser etched stainless steel rim. So no yak hairs in your mead!

The shape of this handsome vessel has been perfectly refined for both comfort and volume, easily holding around 1.2 pints - although it's not recommended for hot drinks. Short of arriving in a longboat it's the ultimate way to establish who's boss at any shindig...
Read full release