Boots help Brits beat nationwide "energy crisis"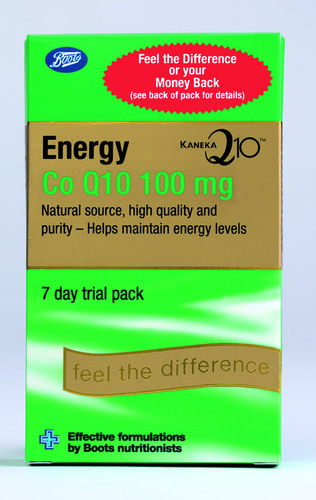 March 13th, London. Britain is labelled the hardest working nation in Europe – but in reality employees only have the energy to knuckle down for FIVE hours a day, according to a new survey by Boots.

Despite being paid for a nine-to-five day, most Brits don't even wake up properly until 9:45am.

They go on to work a full morning, but after taking a 32 minute lunch break, they hit the 'graveyard shift' at 2:00pm.

This afternoon slump can last for up to one hour and 14 minutes – indicating that workers don't function properly again until 3:14pm.

The poll of 4,000 office workers revealed that British businesses are therefore losing on average 151 minutes for every employee, every day, due to TIREDNESS.

Boots pharmacist Angela Chalmers said: "Britain is in the grips of an energy crisis. We are now launching an exclusive energy boosting supplement to help Britain regain its reputation as a hard working nation. The supplement, containing KanekaQ10, helps convert food into energy, so if you're lacking a bit of get-up-and-go then this could be just what you're looking for to put a spring in your step.

"We're so confident the KanekaQ10 ingredient will boost energy we will give anyone who doesn't feel a difference after seven days their money back."

KanekaQ10 is a natural, pure form of Co-enzyme Q10, a supplement found naturally in the body that may help boost energy levels and is available exclusively at Boots.

The research revealed that by not working for 151 minutes a day, Brits are on average 'slumping' at their desks for a staggering 39,260 minutes or 27 DAYS across a 52-week year.

And based on the average UK wage of £23,764, this is costing each employer £2,491.56 per person per year.

A whopping 76 per cent of people polled say that although they sleep for seven hours a night, they often find it difficult to concentrate at work due to tiredness.

And during this time they find it easier to surf the internet (37 per cent) or visit the snack machine (40 per cent) – rather than work – until they regain their concentration.

One in five people prefer to communicate with friends by text message than try to get a grip of the work they are doing when they feel tired.

Boots pharmacist Angela Chalmers continues: "Our modern day lifestyle often means we can find it tough to stay alert during the 9 to 5 and we have become a nation of 'slumpers' as a result. It's hard to maintain energy levels when you're stressed out at the office and living off a diet of chocolate bars and crisps, but thankfully all it takes are a few simple diet and lifestyle changes to get you back on track."

Interestingly workers across the UK go out socialising on at least one work night of the week.

They drink alcohol on average two nights of the week – consuming no less than four units on any one occasion.

And as a result, a staggering 88 per cent of folk say they are hung-over at work at least once during the average working week.

In addition to feeling lethargic, more than half of workers say they can't function without regular caffeine hits – and visit the kitchen to make tea or coffee at least four times a day.

Vicky Pennington, Boots nutritionist said: "Alcohol doesn't just make your head hazy on the night – it can impact on your concentration levels the next day, too. Alcohol can also affect your sleeping patterns, so even if you think you haven't drunk very much then you may still wake up tired and under-perform at work as a result. Excessive caffeine can also have the opposite effect on your energy levels, sending you into a downward spiral rather than an upward curve – so it's best to stick to just a few cups a day to make sure you're on form."

-ENDS-

For more information please contact Lizzie Andrews at Tiger White on lizzie.andrews@tiger-white.com / 020 7202 8520.

NOTES TO EDITOR
From 12th March until 14th April, Boots will be selling a 7 day trial pack of Boots Energy Super Strength CoQ10 containing KanekaQ10 for £4.99. Any customer who is not entirely satisfied with the product should return the pack with proof of purchase and their name and address details to CoQ10 Promotion, PO Box 340, Westbury on Trym, BS10 7WE, allowing 28 days for the refund to be processed.

Boots Energy Super Strength CoQ10 containing KanekaQ10 is available from Boots nationwide and costs £18.99 for 30 one a day capsules containing 100mg KanekaQ10.

Please note that the money back guarantee only applies to the seven day trial pack priced at £4.99.