WIMBLEDON CLASSIC FOR THE HEALTHY EATER - TOTAL LOVE WITHOUT ANY GUILT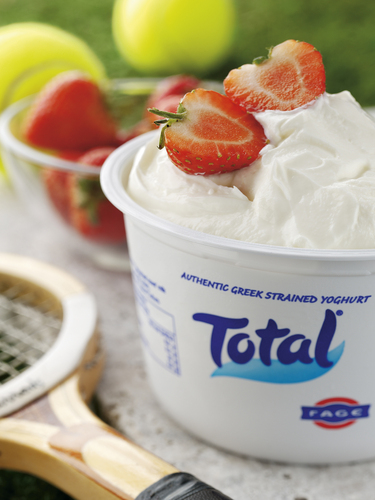 With the strawberry season and Wimbledon (21 June – 4 July) nearly upon us a bowl of fresh sweet strawberries and double cream is surely true love. But at a grand slamming 267 calories per 150g* it is love with a touch of guilt. However, by exchanging the double cream for the same amount of thick and creamy TOTAL 2% Greek Yoghurt can reduce the calories to just 69 Kcals and you still enjoy all of the indulgent taste. TOTAL Greek Yoghurt – for the lighter side of life.

TOTAL Greek Yoghurt is available from all major supermarkets in three fat varieties with 10%, 2% and 0% fat free, from 89p for 170g. For more recipes visit www.totalgreekyoghurt.com
- ends -

For more details please contact: Julie Millar, Julie@trafficpartners.co.uk,
Telephone: 07973 854465

Editors Note: * (80g Strawberries and 70g double cream). Recipe for Strawberry tart attached. High res JPEG available.

Total 2% + strawberries
Ingredients: Pasteurised Skimmed Cows' Milk, Live Yoghurt Culture + strawberries

--------------------Per 100g----------Per 150g *70g yoghurt +80g strawberries
Energy (Kcals)--------- 67 --------------- 69
Fat (g) --------------- 2 --------------- 1.5
Carbohydrate (g)------- 3.8 -------------- 7.5
Sugar (g)-------------- 3.8 -------------- 7.1

62mg vitamin C & 1 of your 5 a day servings
Baked strawberry tart

A classic great English tart but with TOTAL Greek yoghurt.

Prep time 15 minutes
Cooking time 40 minutes
Serves 8 portions

Ingredients

1x 8 inch shop brought raw flan case (preferably sweet pasty but short crust will do)
300g strawberries, washed, dried and husks removed
2 eggs
50g caster sugar
½ tsp vanilla essence
75ml double cream
75g TOTAL 2% Greek yoghurt
A little icing sugar to sprinkle

Method
- Set oven at 180c, blind bake flan in usual method using rice or baking beans for 10 minutes. Remove baking beans and bake for a further 5 minutes, this will stop the bottom of your tart being soggy.
- Cut strawberries in half and arrange neatly in the baked flan case.
- Mix the eggs, sugar, vanilla essence, double cream and yoghurt to form custard. Reduce the temperature in oven to 170c.
- Pour the custard mix onto the strawberries in the flan case and bake for 25 minutes or until lightly brown and the custard has set.
- Do not over bake it, you want it fairly soft.

Allow tart to cool and sprinkle with icing sugar and serve

Chefs tip

You can use any summer fruit with this recipe but not frozen fruit as this will make the tart too soft. Try serving this with a nice chilled glass of your favourite dessert wine or Rose. If you are using strawberries out of season, baking them in the tart will soften and sweeten them.