A pet's Christmas tree decoration is for life … not just for a pet's First Christmas. Look no further for the perfect Christmas gift for that special cat or dog.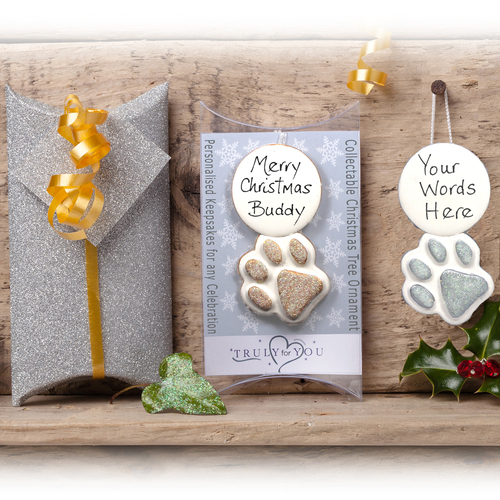 A very special Christmas keepsake for dogs, cats or any furry friend! Check out a unique range of personalised gifts at www.trulyforyou.co.uk
Fully personalised and beautifully handmade, these super sparkly pet personalised Christmas tree decorations are perfect for your special pooch or kitty. New from Truly for You is the Paw Print design in Frosted Gold or Frosted Silver. Made to last a lifetime these personalised paw print Christmas tree decorations are just purrrfect!

No matter how unusual a name, because each personalised Christmas tree decoration is handmade truly for you, the pet's name and any message you choose will be hand written with care on the handmade Christmas Tree keepsake gift.

So for a personalised, unique and charming Christmas gift for under £10, which can be treasured forever, just visit Truly for You to choose from a range of gorgeous Christmas tree ornaments. Truly for You can easily arrange to have gifts delivered directly to your cat, dog or other furry friend, if you prefer for no extra charge, and with plenty of Christmas Designs to choose from the NEW for 2012 Pet Paw Print is just one of the personalised Christmas Tree Decorations available from Truly for You. Look no further then for a great gift for your furry friend or any member of the family! So for a personalised gift for under £10, including delivery, these very special handmade gifts won't break the bank either.

It is easy to order fully personalised Xmas Tree Decorations by just following 3 simple steps on the Truly for You website.

Also available:

"Truly for You" Christmas Lovespoon Gift – is a great new couples gift, Mums and Dads gift, for friends or anyone special to your heart. In Wales a hand-carved wooden spoon would be given to a loved one as a love token. "Truly for You" has taken this delightful idea and given it a softer, more feminine appeal. These ivory-coloured, cold-cast, ceramic-like lovespoons look gorgeous hanging on the Christmas tree from their pretty organza ribbon.

Available in three designs Love Cariad (meaning love in Welsh) and Cwtch (meaning a special hug in Welsh) are great gifts and come in 15 colour choices including Holly and Snowflake Christmas designs, with jingle bells and snowflake charms. Go on, send some love or a cwtch (special hug) this Christmas!

Personalised Christmas gifts are priced at just £9.95 each which includes UK mainland P&P. When you order at www.trulyforyou.co.uk it's easy to request direct delivery to the gift recipient saving you time and money. All Truly for You gifts are beautifully presented in a crystal clear display box. For just £1.95 extra, top quality gorgeous silver sparkly wrap is added with matching gift tag and curling ribbon in a colour to complement your choice of gift.

A very special Christmas keepsake for dogs, cats or any furry friend! Check out a unique range of personalised gifts at www.trulyforyou.co.uk

For more information about "Truly for You" and its range of unique keepsakes, visit www.trulyforyou.co.uk email info@trulyforyou.co.uk or call 0800 612 8745 and ask for KIM RAE.