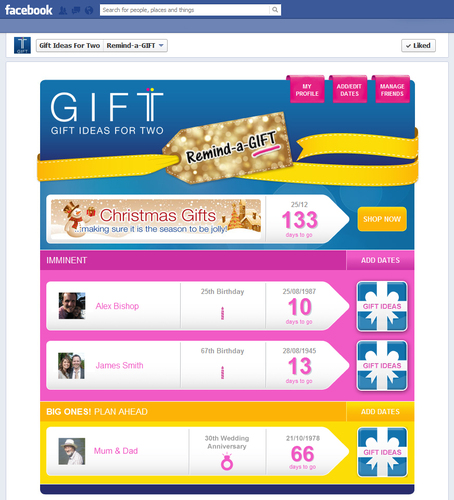 Remind-a-GIFT sounds death knell for panic-bought presents and petrol station flowers

Husbands in the doghouse for forgetting their wedding anniversary, best friends falling out because of overlooked birthdays and panic-bought presents could all be a thing of the past, thanks to the launch today of a unique new Facebook app.

Remind-a-GIFT, which is the creation of online leading gift specialist, www.GiftideasforTwo.com, promises users a 'one-stop shop' for all their gift needs, with upcoming birthdays, anniversaries and other special occasions of friends and family synched into one easy-to-use app.

The bespoke app, launched in response to a growing number of Britons struggling to remember key occasions in the lives of...
Read full release