Luxury Accommodation Specialists Unique Home Stays Celebrate 15 Years of providing private, homestays to discerning travellers from the UK and beyond.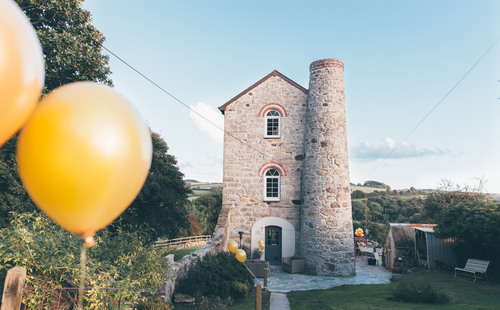 To share this momentous occasion, staff and property owners gathered at the company's newest property arrival The Stack, a 19th century former Cornish engine house, for an evening of merriment. The "Goldrush" theme coordinated with the prestigious gold crown logo. Gold-clad guests explored the unique venue and partied the night away.

The celebratory event, much like the ethos of the business, utilised a local chef, Newquay based photographers and live music by local artist Joel Hurworth. There was a wonderful sense of pride from all who joined in the revelry, director Sarah Stanley described what fifteen years meant to her:

"Unique Home Stays has a maturity about it now, having evolved from a small front room business to a desirable company, trailblazers in the UK's luxury travel industry. Of course none of this would be possible without our dedicated owners and a creative, passionate team that believe and love all that is 'Unique'. I do feel extremely lucky and excited for the future."

The values that Sarah first set out still chime today and with plans for expansion in the pipeline, one thing the company will not compromise on is quality. The dedicated Property Finding Team play a key role in sourcing the next showstoppers to join the portfolio, Clare Towl describes what she looks for:

"With interest rates at an all-time low, investors are looking for an alternative venture. As a result, our Property Finding Service has been extremely popular. With an average of 10% return, compared with a standard long let, the figures are much more appealing. The holiday let business is booming in the UK with more and more travellers opting to 'staycation' rather than venture overseas."

Occupancy levels within Unique Home Stays' portfolio of exclusive holiday homes speak for themselves. By making use of the "sharing economy" and marketing your home through the luxury homestay specialists, home owners can generate a thriving source of income.

Visit uniquehomestays.com to peruse their dazzling portfolio of homes, or get in touch if you have or know of a unique home bursting with the potential to join!

-End-

For the Editor:
Unique Home Stays are passionate about properties that are that bit different. Our focus is marketing luxury holiday homes that are truly unique and breath-taking; wow factor properties that simply can't be found elsewhere.

• Unique Home Stays have 21 members of staff and are based in the small hamlet of Trebudannon on the outskirts of Newquay.

• Website www.uniquehomestays.com

• For professional high res images or further information please call on +44 (0) 1637 882014

• We can organise press trips for select journalists and bespoke write-ups if required.

• Please contact Unique Home Stays in the event of featuring any of our properties in your publication.