LAUNCH OF THE JELLY BELLY® BEAN DREAM TEAM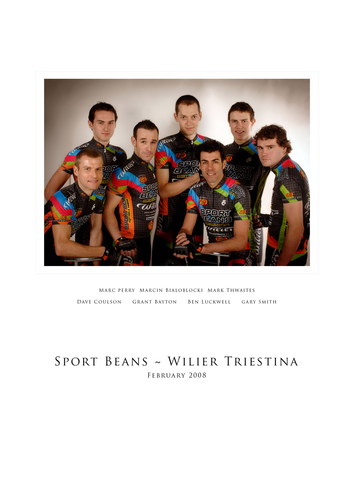 February 1, 2008 --Jelly Belly® Launches Sport Beans-Wilier all-new UK Cycling Team.

Unmoved by suggestions that they should sponsor the English cricket team after the Jellygate debacle bought them front page news last summer, US confectionery giant Jelly Belly Candy Company have turned their focus on another sport altogether. Joining forces with Italian cycle manufacturers Wilier Triestina, Jelly Belly have put their Sport Beans® jelly beans name behind a new team that will race in the country's top road bike challenge, the Premier Calendar Series.

Sport Beans-Wilier will be launched today on the biggest single bicycle wheel in the world – the British Airways London Eye.

Ben Luckwell – now a veterans' champion but in the nineties one of the top three Pros in the country – is rider-manager for the new team. He said: "We have put together a dynamic combination of experienced riders and up-and-coming names to watch. "Our aim in the first year is quite simply to be highly competitive in the Premier Calendar Series and get recognition.

"We have a mix of all the talents and qualities needed to achieve this and the chemistry within the team could not be better. We are all very excited about our prospects and greatly looking forward to the 2008 season."

Sport Beans sports performance jelly beans are scientifically formulated to energise the body during exercise and created with the same flair and taste as Jelly Belly® jelly beans – the famously favourite candy of President Reagan.

Robert Simpson, President of Jelly Belly Candy Company, said: "This is the first time we have committed to this scale of sports sponsorship in the United Kingdom.

"The Sport Beans-Wilier Team is a great combination of youth and experience combining enthusiasm and ambition. We are looking forward to following their progress in 2008."

The team sponsors both represent the cutting edge in their own separate fields: Sport Beans by Jelly Belly are the latest innovation in sports nutrition. Wilier Triestina apply the latest technological solutions in the manufacture of their lightweight Italian racing cycles.

Colin Bath, the Brand Manager for Wilier cycles in the UK added: "I have worked with Ben and the lads for some time and know what they are capable of. With our bikes and Sport Beans behind them, they are in a very strong position to succeed."

The team line up will be: Ben Luckwell, Grant Bayton, Marcin Bialoblocki, Dave Coulson, Marc Perry, Mark Thwaites and Gary Smith.

Team Biographies

BEN LUCKWELL: An Olympian, Commonwealth Games Medallist, 3 times Milk Race Stage Winner and Sprints Jersey winner in the Kelloggs Tour of Britain. Last year he was Southern Division Circuit Race Champion and the current 2007-2008 National Vets Road Race Champion, ie best rider in the UK over 40.

GRANT BAYTON: Greatly experienced, mostly abroad. Rode for many years with the Pope's favourite team Amore e Vita! Now back in the UK he clocked up many 2007 wins including the season-long Castle Combe series.

DAVE COULSON: Rode in Italy and elsewhere throughout the nineties, his experience and climbing prowess within the team is irreplaceable. Top 10 placings in Premier Calendar events in 2007.

MARCIN BIALOBLOCKI: A young new arrival from Poland who has already established an enviable reputation on the British circuit. A true force to be reckoned with.

MARC PERRY: The youngest member of the team but with five years racing in Belgium under his belt - amongst the toughest racing there is.

MARK THWAITES: One of our best U-23 British Cyclo-Cross riders. His determination and form will carry through to next year's road season where his progress is expected to be impressive

GARY SMITH: Team Assistant, Driver and resident 3rd Cat.

Team Bikes

The Team will be riding the classic Wilier Le Roi – the original ultra-lightweight carbon-fibre monocoque frame that Wilier-Triestina developed to become literally, the King of the road. Weighing in at just 990 grams with a lightweight carbon fork to match, the technical weave and race-proven geometry produce a frame that is stiff, lively and comfortable but also supremely light. Le Roi is a machine favoured by champions. To cater for the modern fascination with all things retro, Wilier have found a way of bonding chrome to the rear triangle, at a molecular level, to give the classic 'chrome rear end'. This also allows the use of Wilier's traditional copper finish to evoke a bygone era. All this in a truly cutting-edge, modern frame which utilises tomorrow's technology. The bikes will also be equipped with Italy's finest, a full Campagnolo Record grupetto, to ensure smooth operation and a fitting accompaniment to this magnificent frame.

Team Colours

The kit is not only eye-catching but immaculately designed. The coloured stripes represent the four Sport Beans flavours – Lemon Lime, Orange, Berry Blue and Fruit Punch.

The Aim

The predominant aim for Sport Beans-Wilier is to be competitive with podium placings in the season-long Premier Calendar Series, the highest level of Road Racing on the UK domestic calendar.

They will also compete in the National Circuit Race Series, a season-long City Centre race series where all the action is witnessed at close hand by crowds lining the streets.

The Smithfield Nocturne in London is one such high profile race where the team will be looking to perform. Luckwell will defend his National Vets' Championship Jersey later in the summer, which he will proudly wear in all his races.

-ENDS-

For further information contact:

Victoria Reeves, Best Imports, Best House, 4-5 Alban Park Hatfield Road, St Albans, Hertfordshire AL4 0JJ
Tel: 01727 829010 Mob: 07860 436649 Email: victoria@sportbeans.co.uk

* Sales of Jelly Belly jelly beans went through the roof when Governor Ronald Reagan admitted on the Presidential trail, that Jelly Belly jelly beans were his favourite candy. Three tons of red, white and blue beans were shipped to his inaugural celebrations, and throughout his presidency Reagan kept a jar of Jelly Belly on his desk in the Oval Office. Years later, the special "bean holder" he requested on Air Force One can be seen at the Reagan Library in Simi Valley, California.