Has Your Christmas Honey Got The Unique Manuka Factor? Find Out and Get a Sweet 50% Off Today!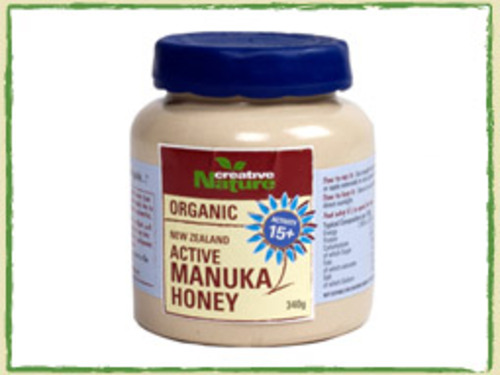 Super food specialist Creative Nature goes all gooey over their UMF 15+ Manuka Honey - the new addition to its award winning super food range

SURREY – 29th October 2008 – Creative Nature, a leading super food brand, has gone all gooey over its latest tastiest product, Manuka Honey by offering a sweet 50% discount! Honey doesn't get much tastier than that! For just £14 you get 340grams of delicious Soil Association Organic Standard Manuka honey with a Unique Manuka Factor* (UMF) of 15+! Give your honey the Unique Manuka Factor this Christmas with this delicious super food that benefits health internally and externally! Ward off sore throats and colds this winter and bring pizzazz to toast on a cold winter's morning. Hurry while stocks last!
http://www.creative-nature.co.uk/manuka-honey.html

This incredible honey with a 15+ UMF is only found in New Zealand where honey bees gather pollen from the Manuka Tea Tree (leptospermum scoparium) this tree is exclusive to New Zealand.

Bees are making a big buzz in the media at the moment, they are responsible for pollinating one third of all the food we eat including pears raspberries and strawberries. But all of this is rapidly changing. A survey by the British Beekeepers' Association (BBKA) revealed that nearly one in three of the UK's 240,000 honeybee hives did not survive this winter and spring. Bee populations are plummeting to crisis levels most notably from the Varroa mite, changes in agricultural practice, pesticides and Colony Collapse Disorder.

Creative Nature's Manuka Honey has been sourced from the few remaining clean hives in the remote west coast of the South Island and Canterbury. Its purity is guaranteed by the 'Soil Association Organic Standard'.

The vast benefits of Manuka Honey include:

• Active Manuka Honey has been found (in laboratory conditions) to inhibit the growth of Helicobacter pylori - the bacteria considered the main cause of stomach ulcers.
• Research also suggests that the honey when ingested may also help fight many other bacterial species, including Salmonella and E. Coli.
Tests conducted at Waikato found that all strains of the hospital superbug Staphylococcus Aureus (MRSA) were completely inhibited by Manuka Honey. Even the strains resistant to all of the antibiotics in common use were no match for Manuka!
• Internally evidence suggests that it may help fight gastrointestinal infections and be beneficial for sore throats and colds.
• Externally it can be applied for wounds, burns and skin ulcers.
• When applied with a wound dressing, it does not dry out the wound providing a bacteria free, moist healing environment and enabling the dressing to be removed painlessly and without causing damage to re-growing tissue.
• Tests were conducted on infected lesions that were not responding to standard antibiotic and antiseptic therapy. In almost every case, when Active Manuka Honey was applied it was found to rapidly clear up infection.
• Let's not forget Manuka Honey can also be used as a delicious food!

For more information on Creative Nature's Manuka Honey, product range and other offers please visit www.creative-nature.co.uk or contact Jamie@creative-nature.co.uk

ENDS

* The UMF is a measurement of the active bacterial potency found in the honey. The UMF number refers to a laboratory test where the honey is compared with a chemical called Phenol. Most research has been conducted using 10+ and it is thought a UMF of 8 or over is useful in terms of remedy though anything under this is of little benefit. Creative Nature's 15+ is excellent for both internal and topical use.