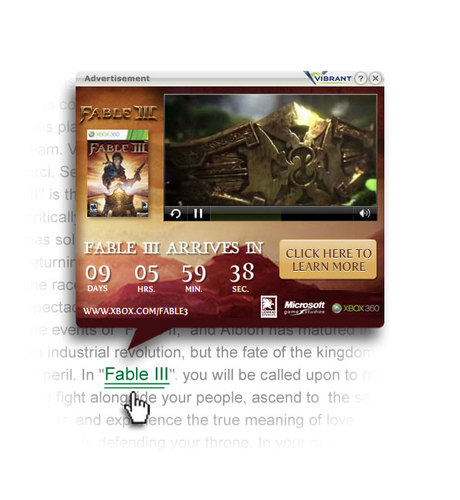 The launch of Microsoft's much anticipated new "Fable III" game, exclusively available on Microsoft Xbox 360, used an innovative live-feed count-down within in-text advertising through Vibrant, the global leader in premium contextual advertising.

The ads featured a real-time feed, count-down timer - in a global media first for in-text advertising – in addition to Xbox 360 and Fable III branding and a trailer for the new game. Fable III, which went on sale in the UK from 29 October, is the eagerly awaited third installment of the popular game.

The count-down in-text ads, which are highly bespoke, ran for the first week of the campaign in the pre-launch phase, with the aim of generating buzz and anticipation prior to the release of the game. Once the product was available on the shelves, the in-text units changed over to super-expandable video units, featuring the trailer of the game; the campaign will run until the end of November. The countdown...
Read full release