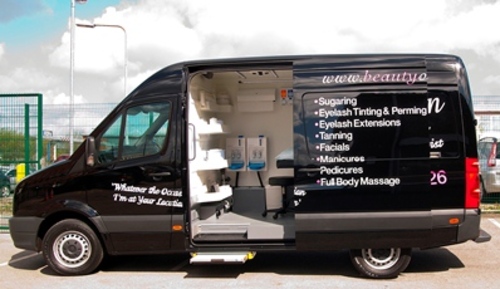 BEAUTY SALON ON WHEELS

Beauty will be literally on the doorstep for Lancashire residents thanks to a Bolton business woman.

Jackie Naylor, owner of beauty business, 'Beauty On Wheels' has upsized her business by converting a Volkswagen Crafter van into a mobile beauty salon.

The 34-year old beautician previously transported all her equipment, massage bed and products in a Volkswagen Golf but due to growing business demand, space became an issue.

Lancashire Volkswagen Van Centre helped the beauty entrepreneur find a solution by converting Volkswagen's largest van, the Crafter, into a self-contained luxury treatment room.

Her move to purchase Volkswagen Commercials largest vehicle has seen the entire inside converted into a beauty parlour.

The pimped and preened Crafter van offers customers a private treatment room on wheels, complete with massage bed, hot and cold running water, heating, power points and lighting.

Jackie said: "Making the move to a commercial vehicle was a big step but as my business is growing and I'm offering a wider range of treatments, a Crafter was the perfect solution."

"Customers can now enjoy all the benefits and privacy of visiting a salon with only going a few steps from their home."

"Everyone at Lancashire Van Centre was extremely helpful in meeting my business needs, as I think this was a unique project for the team at the van centre!"

Lancashire Volkswagen Van Centre's brand manager, Paul Hoinville, said: "It was great fun working on the conversion of the Crafter van. The mobile salon is a perfect example of how versatile the vehicle can be and how it can be adapted to meet all types of customer's needs."

Notes to editors: For more information, please contact John Rawlings, Press and Public Relations Manager, Volkswagen Commercial Vehicles on 01908 601478, 07872 379544 or john.rawlings@vwcv.co.uk.