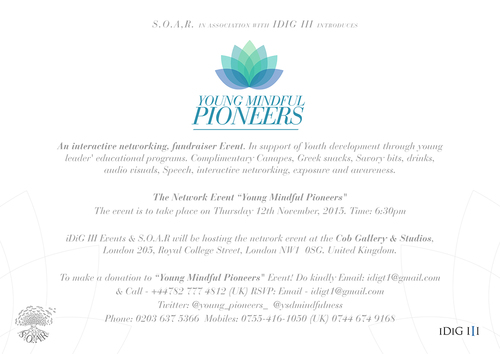 FOR IMMEDIATE RELEASE - 26/10/2015

#leadingforall
@Young_Pioneers_
#idigIIICampaigns

"S.O.A.R" - (School of All Relations) in association with iDiG III Events take up a networking youth development fundraising event.

The Network Event
"Young Mindful Pioneers"
The event is to take place on Thursday 12th November, 2015.
Time: 6:30/7:00pm

iDiG III Events & S.O.A.R will be hosting the network event at Cob Gallery & Studios, Camden Town, London 205, Royal College Street, London NW1 OSG, United Kingdom.

S.O.A.R The School of All Relations is an emerging youth development social program for international youth aged 18-25 based on the Greek island of Aegina, whose aim is to empower young adults to live a meaningful life and respond creatively to the challenges of the world as mindful leaders and social entrepreneurs for the wellbeing of all.

Goal: To multiply the...
Read full release