NEW DOWNLOADABLE AUDIO GUIDE TO LONDON LAUNCHED BY MP3CITYGUIDES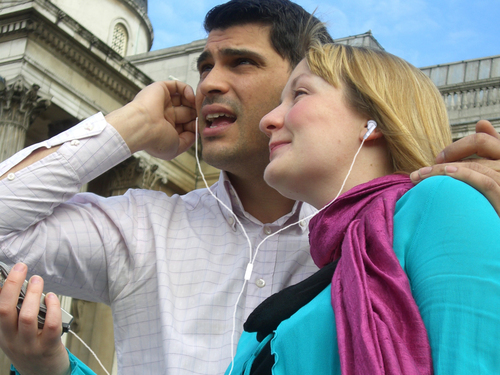 The downloadable city audio tours provider mp3cityguides is to launch its first guide to London.
The tour of Westminster, Trafalgar Square, the West End and Covent Garden will be the thirteenth from mp3cityguides and will be available on the site – www.mp3cityguides.com mp3cityguides - from Monday 28th January.
City visitors who download it onto their iPods or mp3players will start at Parliament Square where they'll hear about the history of the Palace of Westminster and Westminster Abbey before moving up through Whitehall where they will learn about the disreputable property developer Thomas Downing who built the famous street.
Their audio tour will then direct them through Trafalgar Square, past the official centre of London – unknown to most Londoners - and up to Buckingham Palace, once the site of a famous brothel and St James's Park which was at one time a leper colony. After learning about where the name 'Piccadilly' comes from they will wander down to Piccadilly Circus, find out why Regent Street was originally laid out, hear about attempts as back as the nineteenth century, to improve the image of Leicester Square and learn about George Bernard Shaw found inspiration - and perhaps love - in Covent Garden piazza.
"I've lived in London for most of my life but I was amazed by how little I knew about the streets and buildings I've passed so many times," says Simon Brooke, mp3cityguides founder and author of this London - Westminster and West End tour. "It was fascinating to discover the little known history behind some of our most famous landmarks."
The guide, like all others by mp3cityguides costs £7.99 – less than most conventional guide books and includes a Printed Guide with information about London's museums, art galleries, castles and churches as well as its best restaurants, most interesting shops and coolest bars.
ENDS
For information please contact: Simon Brooke on 020 8987 9646 or 07958 239892 or simon@mp3cityguides.com
Notes to editors:

1. A wide range of promotions and reader competitions is now available
2. Please get in touch for a free download of London – Westminster and West End, or any of our other 12 tours.
3. mp3cityguides mp3cityguides now has thirteen tours covering ten of Europe's most beautiful cities including Barcelona, Paris, Rome and Venice with many more to follow shortly.
Simply visit the site, choose a tour and download it onto your iPod or mp3player and you'll be guided around, learning about what you see as you go.