Wash & no: Over HALF of Brits boycott washing in the morning for extra time in bed due to 'hangovers' and 'wanting to cuddle'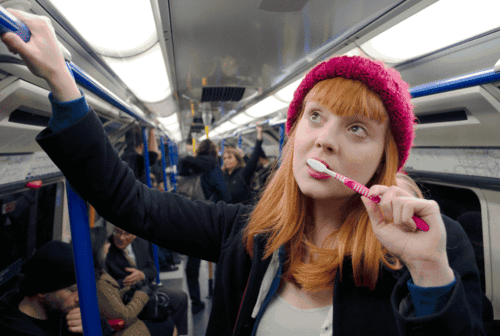 Splashdirect reveal the smelly truths behind your morning commute

Bathroom specialists Splashdirect today reveal that more than half of Brits (53%) admit to forfeiting a wash in the morning for extra time in bed.

Splashdirect's national survey unveils the following grubby truths:

• 1 in 5 (21%) of Brits admitted to avoiding the bathroom due to wanting extra time to 'cuddle' the person they're sharing with
• More than 1 in 10 (14%) admit to sacrificing a splash in the bath or shower due to being hungover
• Surprisingly, almost 1 in 5 (19%) of us don't even wash every day!

Splashdirect, the online bathroom specialists, have also identified other necessities that are skipped for extra snooze time, with a quarter of Brits leaving their make-up application for the tube, and avoiding a shave altogether.

• 13% of men and 6% of women don't brush their teeth before work
• 16% of men wait to use the loo until they get to the office
• 40% of Brits also worryingly skip breakfast altogether

Splashdirect founder Ted Charalambides commented:

"These results are pretty worrying, especially for these people's fellow commuters! With the stats leaning towards Brits wanting to be intimate in the mornings rather than have a scrub, we suggest they invest in a sharing bath or shower, that way they can have the best of both worlds, and avoid dodgy looks on public transport!"

When asked on Twitter if people avoided washing in the morning for extra time in bed, a lot of the replies were surprisingly honest, echoing the survey response:

Zoe Hedges (@sedhedge) commented: "I used to live with a couple who had 'wet wipe washes' every day and then shower once per week!"

Geoff (@GeoffTheRed) commented: "No, but I did dump someone once for going to bed without brushing their teeth. There is NO excuse for poor hygiene."

Dominic Utton (@DomUtton) commented: "Shower or shave is often a morning choice when running late. Look good or smell good? Tricky decision to make!"

And on Facebook, the reactions were even more shocking:

Joanne King commented: "I'm often to be found at work with yesterday's make up on. Reason: after a night out/in with my lovely boyfriend, who wants to cleanse and polish when I can get my leg over?"

Lauren Holifield commented: "I used to do it to stay at the party for an extra hour! Then head to work in last nights clothes, stinking of booze and ready for the day! Who needs a tooth brush when you have crème de la menthe?"

Kate Smart commented: "Just don't go to bed, then you're still officially using the day befores ablutions."

The poll also showed:

• Residents of Edinburgh are MOST likely to avoid the bathroom due to having a hangover (21%)
• The over 55s are LEAST likely to shower or bath every day (22%)
• Welsh people are the MOST likely to skip breakfast in favour of extra sleep in the morning (45%)


ENDS

For more information about Splashdirect please contact Campbell Brown:

helen@wearecampbellbrown.com
camilla@wearecampbellbrown.com

About Splashdirect:

Established in December 2001, and based in Welwyn Garden City, Splashdirect is the UK's fastest growing online bathroom retailer.
We offer thousands of products at unbeatable prices, encompassing items from our own label line and leading industry brands.