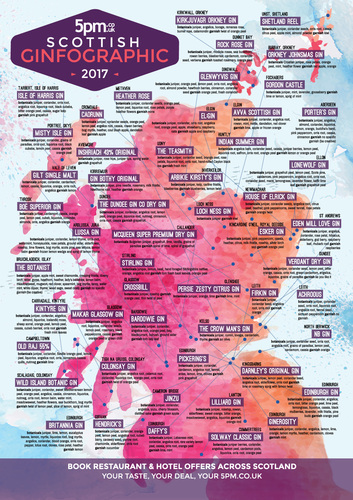 A hugely popular Gin Map of Scotland has been updated for 2017 - with 25 new Scottish gins.

The stunning map, created by restaurant and hotel booking website 5pm.co.uk, launches in time for World Gin Day on 10th June. An incredible 25 new Scottish gins have launched in the last year alone taking the total number of gins on the map to 53 - a visual representation of the Scottish gin boom.

The colourful infographic (or ginfographic) includes the name of the gins, their location, all their botanicals and the garnish recommended by the distiller.

Notable new gins on the map include LoneWolf Gin, produced by craft beer giants BrewDog, two gins from Orkney, Kirkjuvagr and Johnsmas, Misty Isle Gin from Skye, Ginerosity, a social enterprise gin from Edinburgh, along with many more.
...
Read full release