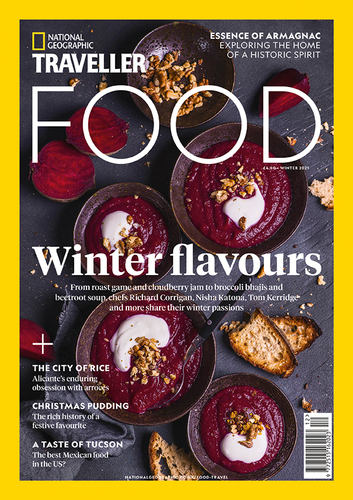 LONDON (8 December): Food by National Geographic Traveller (UK) is celebrating the flavours of winter in its new issue, with help from some of the biggest names in food.

In the winter edition of this special-issue series, big-name chefs and food writers such as Richard Corrigan, Nisha Katona, Tom Kerridge and Judy Joo share the dishes, ingredients, traditions and treasured destinations that make the colder months a time to cherish.

Glen Mutel, editor of Food by National Geographic Traveller, said: "The contributors to our cover story all have something in common: an unbridled passion for the winter and the gastronomic opportunities they bring.

"Partly, they're tapping into the pleasures of seasonality and the joys of wintry ingredients such as parsnip, beetroot, game, quince and Seville oranges. But it's also about the wintry dishes they can't wait to create — for example, Andrew Wong's beloved, double-boiled chicken broth, and Bronte...
Read full release