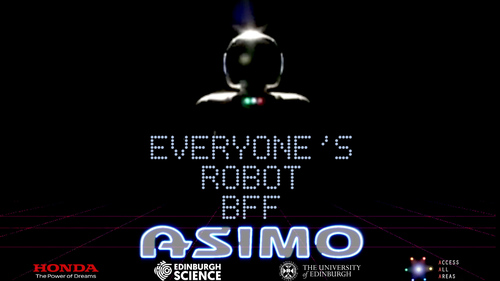 Need a proper BFF who won't let you bail on your workout because of the night before? Look no further.

20 years old at the end of last year, ASIMO, the robot colleague of your dreams and everyone's robot BFF, is the twenty something droid you've been looking for.

To celebrate ASIMO's 20th, ACCESS ALL AREAS FILM has produced two 17sec video teasers, WORLD CLASS and ICONIC, presenting ASIMO as a world class team player during the work week, and as a robot BFF at the weekend.

WORLD CLASS ASIMO spotlights the robot doing things the best professional do: shaking hands, posing for a press corps photo op, and waving at an applauding audience after a presentation.

ICONIC ASIMO spotlights ASIMO's capability to be the robot BFF everyone need in their life: never missing a workout, always up for the footy, getting the drinks in, and being iconic in the club.

The teasers are compiled from footage shot at the...
Read full release