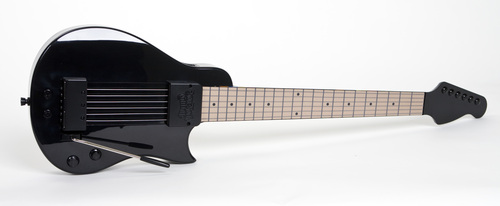 Digital guitar comes with (steel!) strings attached and rocks with Guitar Hero and Rock Band.

You Rock Guitar is a digital guitar with three very special tricks. Firstly it's a game controller for the world's biggest selling music games. Secondly it's a digital guitar to bridge the gap between gaming and learning. And thirdly it's a MIDI/USB guitar, ideally designed for today's digital music creators.

Game Mode: Rock Band and Guitar Hero, and with strings attached

You Rock Guitar is a 'proper' stringed controller compatible with Guitar Hero and Rock Band. Its steel strings and full-size neck mean gamers finally get the performance and feeling of a real guitar. Two sets of colour-coded frets on the neck replicate the buttons on a standard gaming guitar, and the GameFlex cartridges work seamlessly with the leading gaming platforms (PS3, Wii, and Xbox 360).

You Rock Mode: learn on a guitar that doesn't hurt your fingers...
Read full release