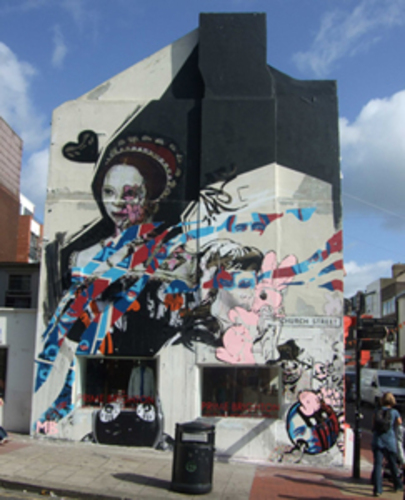 A spectacular new piece created by the artist Miss Bugs and commissioned by artrepublic, has appeared in Brighton's North Laines. The size of a three storey building, the enormous image, with a distinctly royal theme and titled 'Queen of the Arts', was unveiled on 28th August and is destined to become a major new landmark in the coming weeks.

The imposing image can be found at the end of Bond Street, just a stones throw from the artrepublic gallery. Miss Bugs, whose work regularly features at artrepublic, is the creation of two anonymous image makers (they prefer this term to 'artists'). Their work has been brightening up the streets of London for years and more recently their originals and prints have become highly prized by collectors.

Lawrence Alkin, CEO of artrepublic said of the work: 'This is the second stunning piece we've commissioned on this scale and we anticipate the same jaw-dropping effect. I would invite everyone to come along and see...
Read full release