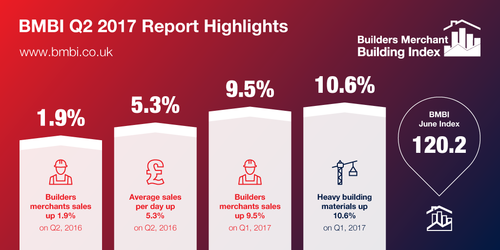 The latest data released by the Builders Merchants Building Index (BMBI) confirms a continuing positive trend for UK builders' merchants with Q2 sales increasing by 5.3% (when adjusted for two fewer trading days in period) compared to Q2 2016. Unadjusted Q2 year on year sales figure is still positive at +1.9%. Year to date sales figures to June are 3.8% higher than for 2016, the same number of trading days.

The BMBI tracks builders' merchants' sales to builders and contractors using GfK's Builders' Merchant Point of Sale Tracking Data. The BMBI includes actual sales over 80% of the value of the builders' merchants' market.

The Q2 results appear to tell a different story to the trend reported by the Office of National Statistics earlier this month, in which they report actual sales representing overall construction...
Read full release