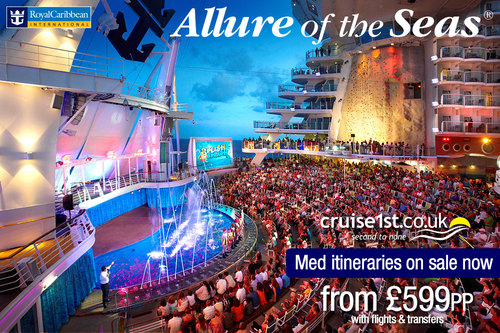 Allure of the Seas Med Sailings now Available to book

The world's biggest cruise ship, The Allure of the Seas operated by Cruise1st.co.uk's parent company "Royal Caribbean" will be sailing in Europe for the first time ever in Summer 2015!

Longer than four football pitches, twice the height of London's Gherkin building and costing over $1.5-billion to build, the ship itself will be like a new destination in Europe!
The Allure of the Seas is "a unique and innovative ship", perfect for the family market, when the 6,318-berth Allure, which launched in 2010, starts sailings from Barcelona on May 3, 2015.

Cruise1st.co.uk Global Managing Director Dan Townsley commented…

"The Allure of the Seas is a sensational ship, which will create a brand new destination within itself in The Med. Customers no longer need to pay for expensive transatlantic flights to obtain the kudos of saying they have sailed on the World's biggest...
Read full release