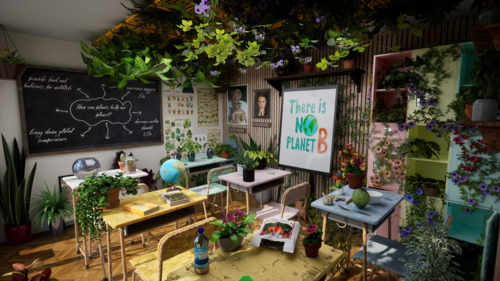 Jo Lambell of Beards & Daisies invites you to enrol in Plant School, to help plant a new future
for our planet.

Combining their love of greenery with their passion for sustainability, Beards & Daisies are proud to present the Plant School as part of the Chelsea Flower Show's Houseplant Studios.

A primary school with a mission to save and protect our planet, and a curriculum focused on educating children on all things green - from biodiversity to growing their own produce. Pupils are led by their inspiring headteacher, none other than Sir David Attenborough.

The Plant School believes there is a lot we can learn from the past in order to protect our future. Featuring a nostalgic nod to 80s and 90s primary schools, complete with a traditional blackboard and wooden desks. To an inspired look at how schools might operate in the future.

Packed full of plants to educate, inspire, motivate and even nourish its students....
Read full release