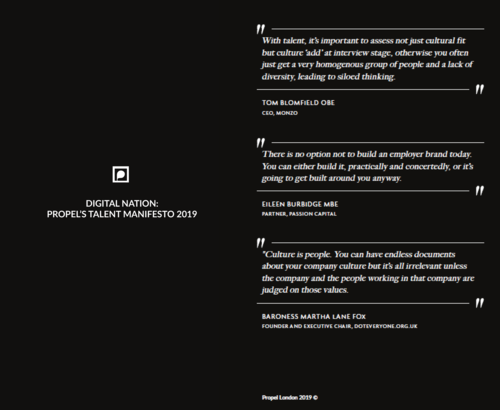 Industry leaders cite company culture as critical for success of the tech sector
52% of individuals working in the tech sector plan to look for new jobs in 2019
Almost three quarters (73%) consider culture and values as equal or of greater importance as salary when looking at a job offer


LONDON: 30 January 2019 – Company culture is so critical to success in the digital economy that it needs to be built even pre-product, with board meetings dedicated to a company's culture rather than its financial numbers, according to Digital Nation, a report into work and working culture.

Digital Nation, published by digital talent business Propel London, examined the attitudes and motivations towards work by both surveying those working in the sector and conducting in-depth interviews with thirteen industry leaders including Monzo CEO Tom Blomfield OBE, Passion Capital partner Eileen Burbidge MBE, and Baroness Martha Lane Fox.

The...
Read full release