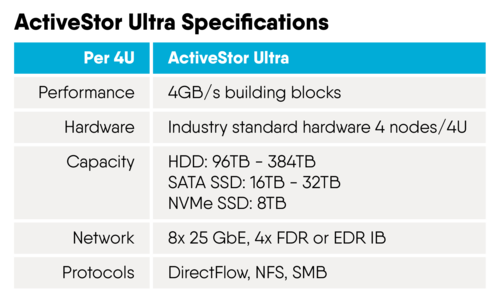 Fastest parallel file system at any price point ready for distribution to Boston customer base in the US, EMEA and APAC.

ST. ALBANS, HERTFORDSHIRE, UNITED KINGDOM, SUNNYVALE, Calif. and ST ALBANS, UK – July 14th, 2020 13:00 BST – Global high-performance computing (HPC) integration specialists Boston Limited (Boston) has completed testing and certification of the Panasas® ActiveStor® Ultra product line, readying the turnkey HPC storage appliance for distribution to its customer base throughout the US, EMEA and APAC. ActiveStor Ultra features PanFS®, the fastest parallel file system at any price point. Boston is a strategic distributor and integrator for ActiveStor Ultra, providing customized HPC product and service solutions including installation, configuration and support services globally.

The ActiveStor Ultra HPC appliance runs the PanFS parallel file system on Supermicro commercial offthe-shelf (COTS) hardware, using a carefully balanced set of...
Read full release