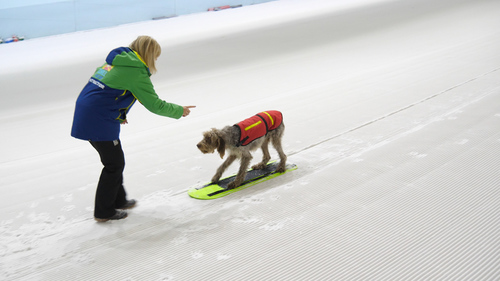 CHILL FACTORE TEACHES A DOG TO SNOWBOARD WITH
GUARANTEED TO SKI PROGRAMME

Chill Factore has proved it can teach anyone to snowboard or ski – even a dog.

The adventurous Italian Spinone has loved the snow since a young age, and having already mastered the art of skateboarding, now eight year old Woody has now turned his attention to snowboarding. New year, new tricks.

Before his slope debut, Woody ensured he ate a hearty breakfast of his favourite food, sausages, prepping him for the big day ahead.

Footage taken from his first lesson on the snow shows him taking a few tumbles, before working on his balance and taking on the slope at a higher point each time.

Morwenna Angove, CEO at Chill Factore, said: "We have some of the best instructors in the UK, and we wanted to prove we can teach anyone to ski or snowboard, even a dog.

"Woody has shown excellent progress – he's been a dream to...
Read full release