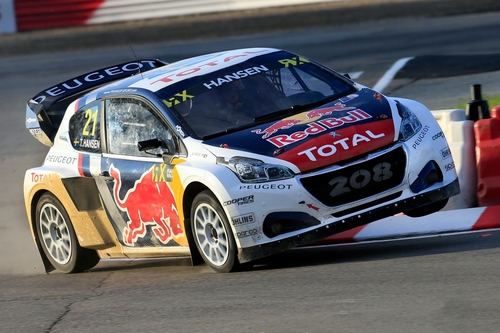 Round nine of the 2017 FIA World Rallycross Championship saw Sébastien Loeb and Timmy Hansen keep the crowds entertained at Lohéac, France. Sébastien Loeb pocketed the weekend's second place to provide the Peugeot 208 WRX with its seventh podium result of the season.

A crowd of almost 75,000 spectators (the record turnout so far this season) watched the Peugeot 208 WRX deliver further evidence of its speed. After winning Q2, Sébastien Loeb topped the provisional order at the end of Day 1's action which also saw him post a new fastest lap record for the French venue with an impressive 36.095s. On Sunday, he was unfazed as persistent rain swept over eastern Brittany and he followed up second-place in his semi-final with the same result in the final.

Timmy Hansen emerged from qualifying in fourth spot and promptly won the second semi-final which was contested by all three of Team Peugeot Hansen's Peugeot 208 WRXs. Unfortunately, gearbox gremlins prevented...
Read full release