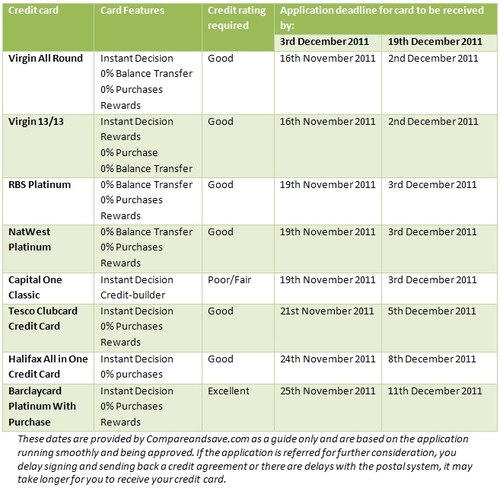 Compareandsave.com is urging UK consumers to compare and apply for credit cards as soon as possible if they want to get and make the most of credit card deals this Christmas.

With just 39 days left before Christmas, consumers only have a matter of days to apply for some of the best credit card deals currently available on the market if they want to receive their credit cards by the first Saturday of the Christmas Shopping season, 3 December.

The credit card company needs time to process the application, make a decision, possibly send out credit agreements which need to be signed and sent back, send out the card itself and a PIN, etc – all of which can take time.

To help ensure Brits receive their credit cards in plenty of time to bag a Christmas bargain, Compareandsave.com has researched the application deadlines for eight of the best UK credit cards offering...
Read full release