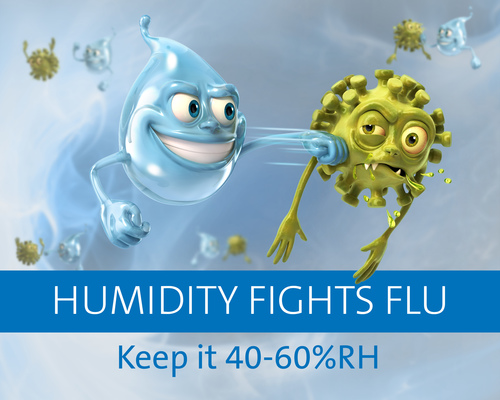 Humidification specialist, Condair, is launching a "Humidity Fights Flu" campaign to promote awareness that an indoor humidity level of 40-60%RH is very beneficial in combating airborne influenza infections.

Tim Scott, head of sales at Condair plc, comments, "There is overwhelming scientific evidence that person-to-person airborne flu infections are reduced when indoor humidity is maintained at 40-60%RH. Yet there is still no legislative requirement for public places or healthcare facilities to manage their humidity levels appropriately and take advantage of this effective weapon in the fight against seasonal flu.

"The building services sector should not just accept this as an inevitable blight on our society every winter and ought to be doing more to address the spread of seasonal influenza through humidity control. Without humidification most indoor environments will drop below 40%RH for a substantial duration during the winter. It is in this dry...
Read full release