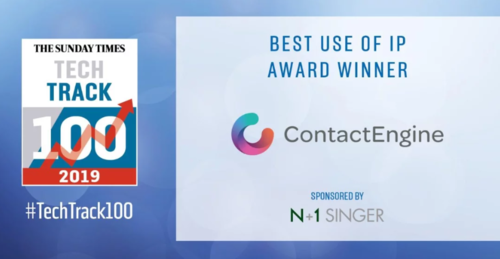 London, 7 November 2019: ContactEngine, the conversational AI technology used by large corporations across industries to automate customer communications, was presented with the "Best Use of IP" award at the 19th annual Sunday Times Hiscox Tech Track 100 national awards dinner held in London this week.

Following their recent ranking in the acclaimed annual Tech Track 100 league table of Britain's fastest growing private technology companies, ContactEngine was nominated for a number of awards which were celebrated at the prestigious awards dinner. Over 300 guests including founders and senior directors from the leading tech companies attended, with Boris Johnson, Prime Minister, congratulating the guests on their success via video.

The "Best Use of IP" award was sponsored by N+1 Singer and was...
Read full release