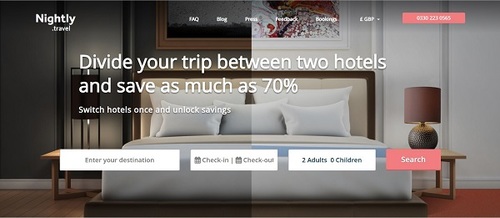 The world's first website dedicated to hotel switchingTM has launched a crowdfunding campaign to raise £250,000.

Nightly.travel takes the best value nights from one hotel and combines them with the best value nights of a second hotel to help travellers save up to 70% on their city stays, a practice Nightly.travel calls hotel switching. The company is inviting customers and outside investors to become shareholders through the crowdfunding platform Seedrs.

The company will use the investment to increase its hotel supply from 75,000 hotels today to over 290,000 hotels, agree new commercial partnerships to drive traffic, and trial hotel-to-hotel transportation transfers for customers as part of a hotel switching package.

Hotel switching explained
Hotel switching is the process of changing hotels during a trip to take advantage of fluctuations in nightly room rates.

For example, a customer choosing a five-night stay in...
Read full release