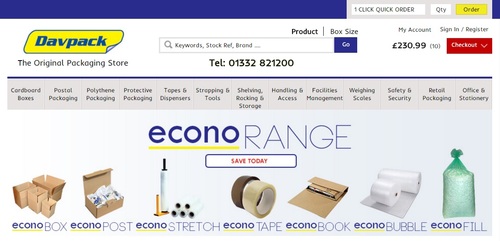 Davpack Packaging Materials Extends Its Range of Economy Products

Packaging materials specialist Davpack has extended its range of economy lines designed to save companies up to 50% on their packaging supplies.

The move is in response to increasing pressure on customers to save money, as they see continued cost inflation within their businesses from Brexit currency effects and rising living wage costs.

Davpack now offers a range of over 130 economy products covering the main packaging materials companies need in order to store, pack and ship their goods. All products come with the company's quality and satisfaction guarantee, but without the price tag associated with known brands.

Davpack's 'econo' range includes boxes from only 12p, packaging tape from 35p, bubble wrap rolls from £5.36 and a large 425 litre bag of void fill chips from only £11.89.

Commenting on the new range, managing director Barney...
Read full release