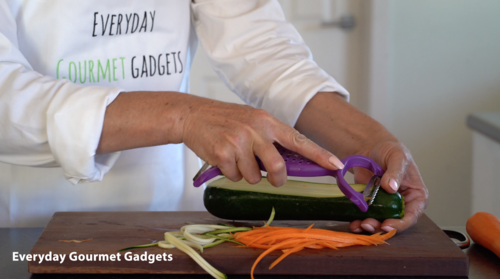 This handy, British made gadget can shred, peel, slice, grate AND make courgetti spaghetti. It is the perfect companion for every kitchen - It's easy to use, easy to clean, and takes up no space in your cupboard.

London May 13th - 2019 - So spring arrives and we all jump on the healthy eating band wagon, in a quest to lose the winter weight and get fit for summer. But after a while, it can start to become a bit of a chore, and prepping all those vegetables can become very time consuming.

The new Ultimate Julienne Peeler has now arrived – and this masterpiece ticks all the right boxes when it comes to prepping healthy food. It's quick, easy and effortless – and takes no time to clean!

It has two different blades on one handle. One blade for peeling, slicing and shredding the other side has a fabulous quality, serrated julienne blade that makes fresh courgetti, "Boodles" or cauliflower rice in seconds! The ergonomically designed handle...
Read full release