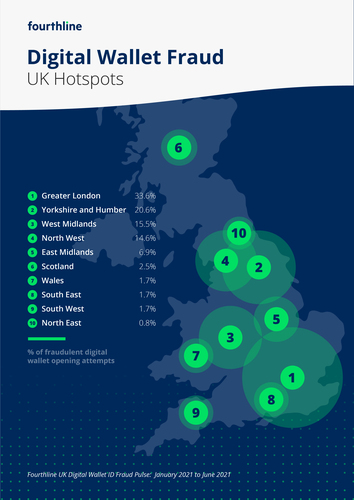 Greater London is the hotspot for counterfeit ID fraud attempts

Amsterdam, Holland, 28 June 2021: Fourthline, the digital identity and verification specialist, has released findings from its Digital Identity Fraud Analysis Tool, which looked specifically at the different ways fraudsters have attempted to create digital wallet accounts in the UK over the last six months. The UK Digital Wallet ID Fraud Pulse, analysed data over the period January 2021 to June 2021, to reveal criminals most commonly used counterfeit driving licences when attempting to open a new digital wallet account.

Digital or mobile wallet payments have skyrocketed in the UK - used for just under a third of all online transactions in 2020, according to payment processor Worldpay. This explosion in usage presents an opportunity for fraudsters to use counterfeit or tampered ID to create illegal digital wallet accounts. As the real identity behind these fraudulent accounts is unknown,...
Read full release