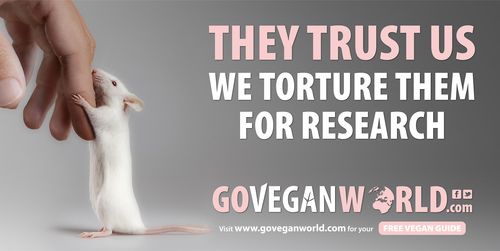 The ASA decision followed a complaint about a Go Vegan World public information advertisement on a UK bus featuring a mouse holding onto a human hand, accompanied by the text "They Trust Us, We Torture Them for Research".

A medical scientist asserted that it was misleading to say that we torture animals for research, because "scientific" research is regulated in the UK. However, Go Vegan World provided the ASA with evidence of the millions of animals who are tortured for research in the UK every year, even according to official statistics and legislative definitions.

The Ruling

The ASA agreed with Go Vegan World that there was sufficient evidence to support their use of the word "torture".
Commenting on the finding, Sandra Higgins, Director of Go Vegan World, stated
"Animal experimentation is the stuff of nightmares. We should not support it, any more than we should support killing other animals for food or any other use....
Read full release