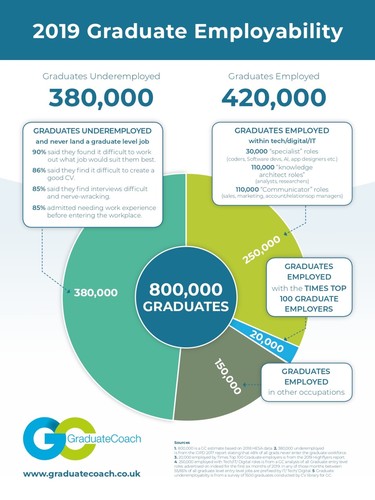 Almost half of the class of 2019 in the UK won't get a graduate-level job and will remain underemployed, latest figures show.

The state of the graduate market, 2019:
About 800 000 will graduate this year in the UK (HESA, 2018).

380 000 of them will be underemployed, taking jobs that do not require a degree (CIPD, 2017).

Of the 420 000 graduates who do land a graduate-level job, 250 000 will be within tech/digital and IT roles (Graduate Coach, 2019).

This data has been compiled by Graduate Coach - the UK's leading graduate coaching company. They have successfully coached 500+ students and graduates helping them to secure graduate-level jobs at a wide range of organisations including Deloitte, Google, IBM, The NHS and more.

In response to these findings, Graduate Coach has collaborated with CV-Library to commission research to...
Read full release