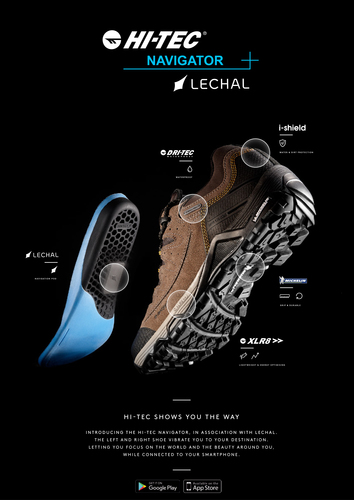 Hi-Tec introduces the Navigator - intelligent walking shoes that help you explore the sights and sounds of urban destinations without staring at a map or your phone.

Hi-Tec have joined forces with leading electronics company Lechal®, to launch a truly innovative waterproof walking shoe that offers the ultimate in hands free navigation. Haptic technology vibrating pods in the insole of the shoe work by communicating via a smartphone navigation app through Bluetooth®. After entering your destination in the app on your phone, the shoes guide you through the streets with directional left and right foot vibrating pods, without the need for GPS signal. The app's user-friendly interface not only navigates but offers various fitness-based features, from custom workouts to setting fitness goals.
The Navigator walking shoes are built for comfort and performance. Features also include a fully waterproof and breathable membrane, i-shield hydrophobic and stain repellent...
Read full release