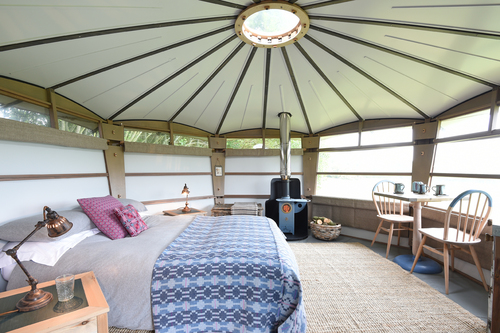 Hide in luxury at seven-acre Welsh wood

Alternative holiday accommodation on the Glamoragn Heritage Coastline.

Inspired by American transcendental poetry and its love of nature, and showcasing the best of Welsh arts and crafts, Hide at St Donat's offers a range of unusual and stylish accommodation on the Glamorgan Heritage Coast.

Hide hosts Paula Warren and Tom Parker have created a unique retreat in an enchanting seven-acre woodland setting at Tresillian Wood, St Donat's on this geologically-significant coastline.

Working in tune with nature, Hide comprises three cosy 'caban' studios and a quirky shepherd's hut, set deep in the site's arboretum. A 'tiny house', a romantic wooden lodge, is soon to be built.

Cabans
Hand-built by Tom and inspired by the meeting rooms once used in the Welsh mines, the cabans are furnished with Melin...
Read full release