Natural Bee Pollen Supplements Snatch Holland & Barrett Healthy Award AND Psychologies Award in One Month!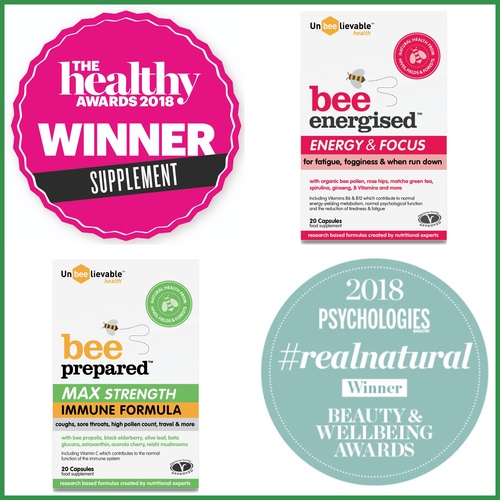 Super healthy British supplements brand Unbeelievable Health are polishing their mantle piece this week after receiving news that they'd won their second award in a month.

The first award is 'Winner' in the 'Best Immunity Booster' category for Bee Prepared Max Strength capsules, in Psychologies October issue, just in time for autumn and winter, where immune systems undergo an annual battering of colds and flu.

These ethically driven awards are headed up by award winning beauty and wellbeing editor Eminé Ali Rushton, alongside her expert high profile panel of 21 judges made up of a botanist and natural cosmetologist, nutritional therapists, natural make-up artists, holistic facialists and the UK's most experienced health and beauty journalists, alongside wellbeing authors, respected bloggers and naturopathic industry insiders.

The second award is for Bee Energised, 'Winner' in the Supplements category of The Holland & Barrett Healthy Awards 2018.

Following the very recent news in August that Holland & Barrett will start testing all of the Manuka honey products it sells to ensure they are genuine, it's very exciting that a bee product has come out on top. Bee products have been gaining in popularity for years and are at their peak of demand so far right now.

Unbeelievable Health donates a proportion of profits to bee charities and causes each year, including Friends of the Earth, and Bees for Development, who will be supported by the Fortnum and Mason's Honey Auction and Dinner on October 11th. They will raise funds for promoting sustainable beekeeping in developing countries by helping remote and poor families earn essential incomes with low-cost beehives to harvest and sell honey.

What is Bee Prepared Max Strength?

Rated 5 stars in 90% of reviews, this convenient all-in-one effective combination of antioxidant rich, plant-sourced nutrients help support the body's natural defences, year round. Bee Prepared MAX is an ideal choice when one needs a wellness boost or is starting to feel an illness coming on. The research- based formula combines therapeutic amounts of high quality, immune supporting nutrients, all of which have a proven history of benefits.

What is Bee Energised?

Bee Energised is an all in one synergistic formula which combines nutrient rich ingredients with a proven history of benefits when it comes to supporting energy & focus.1
As the autumn months draw in, many find a boost in the form of a high quality natural supplement very helpful, for maintaining focus at work and in day to day life.

When to use Bee Energised

•When experiencing fatigue and tiredness
•When studying
•During stressful, energy draining periods
•During and after travel
•If exercising frequently

For more information:

Sarah Orecchia sarah@unbeelievablehealth.com

Jasmine Wythe jasmine@unbeelievablehealth.com

Twitter

Insta

Drop us a line if you'd like any more information on the awards or products, or would like to publish our special news alongside a reader give-away - available to national publications.