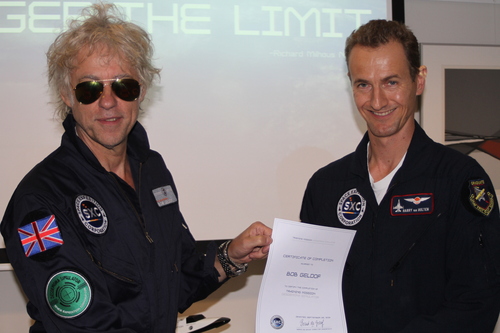 Amsterdam, 26 September 2013, Today Bob Geldof completed his first SXC training mission at the space flight simulator Desdemona in The Netherlands. He was very impressed by the realistic flight simulation of the XCOR Lynx spacecraft and is now even more excited about his actual flight to space with SXC.

Geldof added that the simulator is a fantastic device, the power of its thrust is amazing and the experience of it all actually makes you want to stay up longer.

Space Expedition Corporation is thrilled to have singer, activist and seven times Nobel Peace Prize nominee Sir Bob Geldof on board as an SXC future astronaut. Geldof is a highly successful businessman, performs with his own band and is, once again, the frontman of the newly reformed Irish band The Boomtown Rats. In the 80's, he initiated the hugely successful benefit concerts Band Aid and Live Aid to raise money for Africa followed by the incredible Live 8 concerts in 2005 to bring about...
Read full release