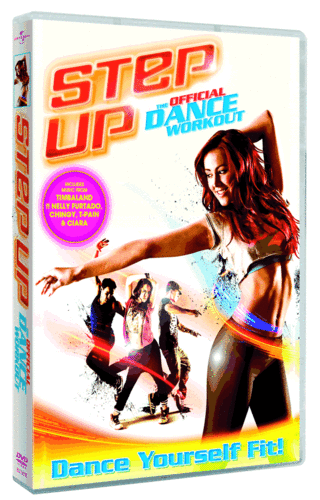 PRESS RELEASE DVD
RELEASE DATE: 27th DECEMBER 2010/11
RRP 19.99

COMPETITIONS & GIVEAWAYS ON REQUEST

Calling all music video and film fanatics who need to 'step-up' their fitness regime... get ready to dance your way to an awesome body with STEP UP THE OFFICIAL DANCE WORKOUT inspired by the hugely popular STEP UP movies released by Universal Pictures (UK).

Box office smash hit, STEP UP, has sold over TWO MILLION DVD copies to- date and has an army of street dance devotees in every corner of the world. STEP UP THE DANCE OUT is the first fitness DVD from the perfectly toned STEP UP franchise and promises to shift those excess Xmas pounds to all the latest street sounds.

For those 'B-Fab' (born from a boombox) dancers who hate the gym but love to hit the dance floor, STEP UP THE DANCE OUT brings both to the comfort of people's living rooms. Fans can have fun and dance themselves fit while learning the coolest...
Read full release