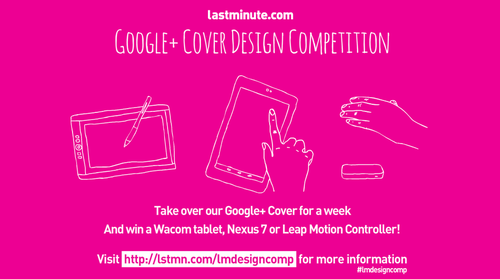 lastminute.com, the site the UK comes to first for last minute breaks*, is calling all designers to enter its Google+ Cover design competition. Three designers who come up with the best, spontaneously-themed submissions, will win a techie prize and see their work on Google+ for a week in January.

Selected by a panel of judges, and then by a public vote, the chosen designs will communicate the benefits of a more spontaneous approach to travel and leisure in a creative and visual way. A panel of expert judges will curate the entries and select a shortlist of the strongest Google+ Covers.

As well as having the chance to showcase their work to a lastminute.com public audience for a week in January, there are three fantastic prizes for the top three entries; the winner will receive a Wacom Cintiq 13HD Pen Display, the runner-up a Nexus 7 and the design coming in third place a Leap Motion Controller.

Jon Dow, Group Marketing Executive at...
Read full release