UK based Legalesign Ranked 2nd in Europe for E-Signature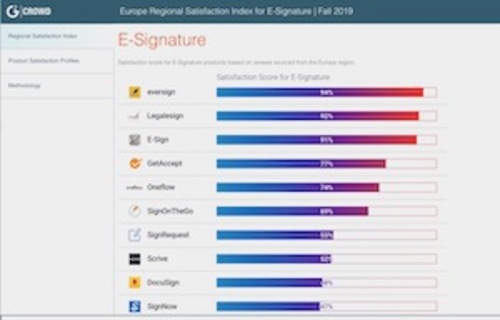 Cambridge based Legalesign is delighted to announce its ranking as Europe's second top provider of electronic signature, according to figures published by G2, a leading market comparison website.

Latest customer satisfaction ratings from the electronic signature sector show that Legalesign scored a terrific 92%, beating off stiff competition, including from the well known global company DocuSign that achieved a score of only 48%.

G2 is recognised by the software industry for its genuine peer-to-peer reviews and detailed feedback that can influence potential new clients. It recently surpassed a new milestone figure for processing more than 3 million documents.

Ben Eliott, CEO of Legalesign, whose e-signature software is used by legal firms, insurance companies, property firms, recruiters, accountants, local government and government bodies, welcomed the top score. It is the quick, safe and paperless way for smart businesses to sign contracts and agreements, saving considerable time and money.

Ben said, "This top ranking is fantastic news from a really strong, independent review site, making us also the number one provider of e-signature in the UK. G2 is the best way for consumers to compare new software products and services as no other site provides such detailed analysis, showing what kind of industry the customer is in and the size of their business."

Ben has reassured its customers that its secure service will continue as usual after 31 October.

He said, 'While there is much uncertainty regarding Brexit, I would like to reassure our clients that contracts and agreements can continue to be signed as usual.

"The EU eIDAS Regulation, which providers of electronic signatures have to comply with, will be drawn into British law on 31 October. As a result there will be no difference between now and afterwards, regardless of whether or not there is a Brexit deal."

Ben has 20 years experience in software development and holds an MBA from the University of Edinburgh where he wrote his dissertation on electronic signature, its legal basis in the UK and how it can deliver value for enterprise.

He added, "We believe Legalesign's customer focus and features sets it apart from competitors, enabling clients to track documents, bulk send and adhere to privacy and GDPR compliance. We also customise our services to meet our clients' personal requirements and constantly look at new ways to develop even more features to stay ahead in our field. At the end of the day, that is what we are tested on, as well as our personal customer service approach which we know is always greatly valued."

For more information about Legalesign see https://legalesign.com/ phone 01223 628950 email contact@legalesign.com


Ends
Notes to Editors:
1. For further information or examples of case studies showing customer experiences please contact Legalesign Press Officer Ellee Seymour on 07939 81191.
2. To view the G2 website and its rankings for electronic signature see https://www.g2.com/grid_report/documents/europe-regional-sat...