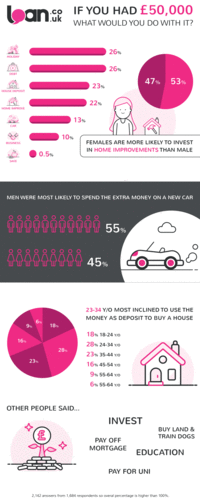 Bournemouth, UK. February 8, 2019 - Secured loans broker Loan.co.uk recently asked 2,000 British men and women what they would do if they were given £50,000 to spend.

The question comes just a month after Patrick and Frances Connolly from Northern Ireland were revealed as the winners of the £115m New Year's Day EuroMillions jackpot.

When asked what they'd do with the money, Mr. Connolly replied that he'd attend the Formula 1 Grand Prix in Monaco and enjoy the sun with his family in Mauritius.

Loan.co.uk's research found that the majority of Brits would react the exact same to a financial windfall, with 26% saying they'd spend a massive £50,000 on a dream holiday.

With the average UK household debt, including mortgages, sitting at £58,540, it's perhaps unsurprising that another 26% stated they'd pay off what they owed.

English households have the highest amount of debt per household and therefore it's...
Read full release