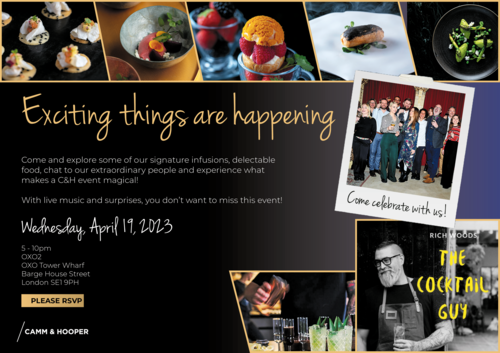 Exciting things are happening on London's Southbank, and you're invited to the party.


Camm & Hooper is inviting you to an experience like no other, to immerse yourself in a turning point of the events industry. Join us for what will be a magical, unforgettable experience for extraordinary people, by extraordinary people. Hosted at one of London's secret-gem venues with a surprising history and breath-taking views, the OXO2 will spark your imagination alight. Events are back.

You'll get a flavour of what world-class hosting really looks like, along with a taste of Camm & Hooper's award-winning delectable dishes, distillations and infusions.


Date: This Wednesday, 19th April
Time: 5-10pm - drop in any time
Location: OXO2, South Bank, London


· Learn the new chapter of the Camm & Hooper story first hand from the Magic Makers
· Delectable dishes - salivate...
Read full release