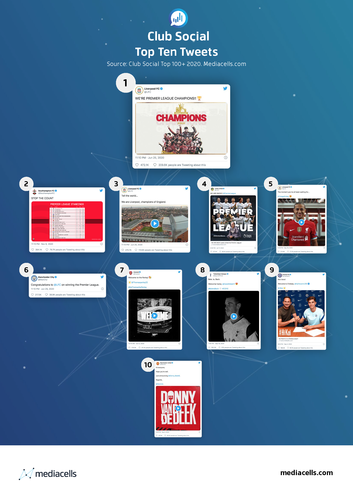 After a year of mostly fanless sports stadiums Mediacells asks, what are the implications for physical-digital event experiences in 2021?

In 2020, English Premier League clubs posted over 80k messages, attracting 280+ million fan engagements*.

The Mediacells Club Social Top 100+ applies a data technique to present the most engaging club social activity and then overlays a human lens to identify emerging trends in fan behaviour.

Empathy is a strong social media theme in 2020. Last year's top 100 tweets show over a million likes, retweets, replies and mentions surrounding positive, off-the-pitch sentiments expressed by fans from Premier League clubs.

There are many successful posts showing empathy for others. For example, tributes to healthcare workers or victims of the Beirut port explosion.

Fans echo club sentiments, sometimes berating the graceless, more attention-grabbing members of the social media...
Read full release