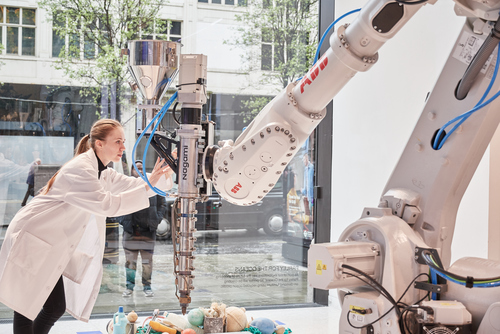 • Iconic London department store to showcase future role of robotics
at point of consumption
• ABB robot 3D additive printing will use upcycled Parley Ocean Plastic®
to create range of designer items
• Personalized items can be ordered on site by customers and produced
in-situ, ready for purchase
The future of retail is being highlighted by an exciting 3D printing demonstration featuring an ABB robot in Selfridges, one of London's premier department stores on Oxford Street. Throughout April the demonstration will feature in a window display, with shoppers able to see an ABB robot 3D printing a variety of personalized designer objects made from Parley Ocean Plastic® – intercepted marine plastic debris collected from Parley's Global Cleanup network.
The 3D printing demonstration is part of Selfridges' SUPERMARKET concept, which challenges consumers to think about how the goods they purchase are produced and the impact of this...
Read full release