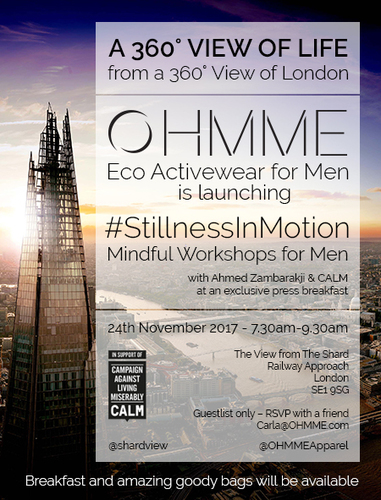 OHMME - an eco-conscious company creating activewear for men - is launching their latest project, #StillnessInMotion, at an exclusive press-only breakfast at the Shard on 24/11/17 at 7.30am-9.30am.

#StillnessInMotion are mindful workshops specifically created for men, to help dispel societal stereotypes of masculinity; that men should be tough, 'just deal with it', and 'man up'. The workshops are being launched to offer space for men to explore these pressures, in a civilisation that frowns upon men asking for help.

Sadly, these archaic ideas haven't served men well, as statistics show that in the UK, suicide is the biggest killer of men under the age of 45. This lack of support and connection is not toughening men up, it's killing them. Needlessly.

The press launch of the #StillnessInMotion will be led by Ahmed Zambarakji, who has 10 years experience in a whole range of...
Read full release